Hi
Thanks for dropping by on us at Simply-Lays.com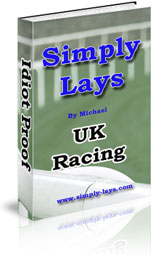 As you must have known that in today's world, we can make money on horses by having them to lose…..yes thanks to Betfair, the world largest Betting exchange.

But is it really easy to make money by laying horses? You know the answer – it's not at all easy.

Simply-Lays.com is latest brainchild from Michael's. It is one of the simplest systems which we have seen in recent years.
Simply Lays delivered more than 22 profit points every month on level stakes with amazing strike rate of around 80%.

Simply Lays is way, way different from your conventional betting systems which you have been seeing in market for quite some time.

We don't do form of any kinds, don't look at stats, don't look at going, don't look at weight of money etc etc.

It is based on the concept using which can't make you lose money long term for sure….as our logic is based on that concept only. And it has been proved also as Simply lays delivered  around 65 profit points ( excluding ) in 3 months time.

What do you need for Simply Lays :-
Access to Betfair
Access to a website which provides some free info which we need for our strategy.
Simply Lays is a system which requires you to bet just before the official start of the race.
So more races you can monitor, more profit for you. Even if you are stuck in office hours, you can try it out in evenings or during the weekends.

Also 9 to 5 ers can you use any automated bot if they don't want to monitor races. You can customized your bot as per rules provided in the manual.

So, to recap what are you get today if you decide to buy :-
Simply Lays manual
One Tutorial video showing live bets.
You will all get in one encrypted software which will work only one pc once we will send you the key post purchase. This is to save our hardwork from digital pirates.