If you are a Straight Lay Bettor,
You NEED This SOFTWARE!
Video runs for 4 minutes.
The Tutorial Video is here runs for 16 minutes. Click Here
This software is dead easy to use and gets order back into your BETTING.
See most people don't make poor selections, they fail because they have no PLAN.
The old saying " Failing To Plan, is Planning To FAIL"
This Lay Cover Staking, is for lay betting, whether it is horses, dogs,
football or sports that offer odds up to around 8.00 (7/1).
These are the odds that in most cases will give you the strike rate to make the software a powerful earner.
What is the Punter's (Bettors) worst enemy?
Money management, that is what stakes to use when betting (Lay). This is what lets most punters down.
Generally time and energy goes into get the horse, dog, team, whatever sorted out.
Then when it comes to putting the money down, everything goes to pieces.
Human emotions, panic, fear, doubt and insecurity. These are the forces at work.
A staking software brings calm and a business approach to the betting.
Plus you can have different profiles, for dogs, for horses, for football, so you now have order.
A business like approach to your Lay betting.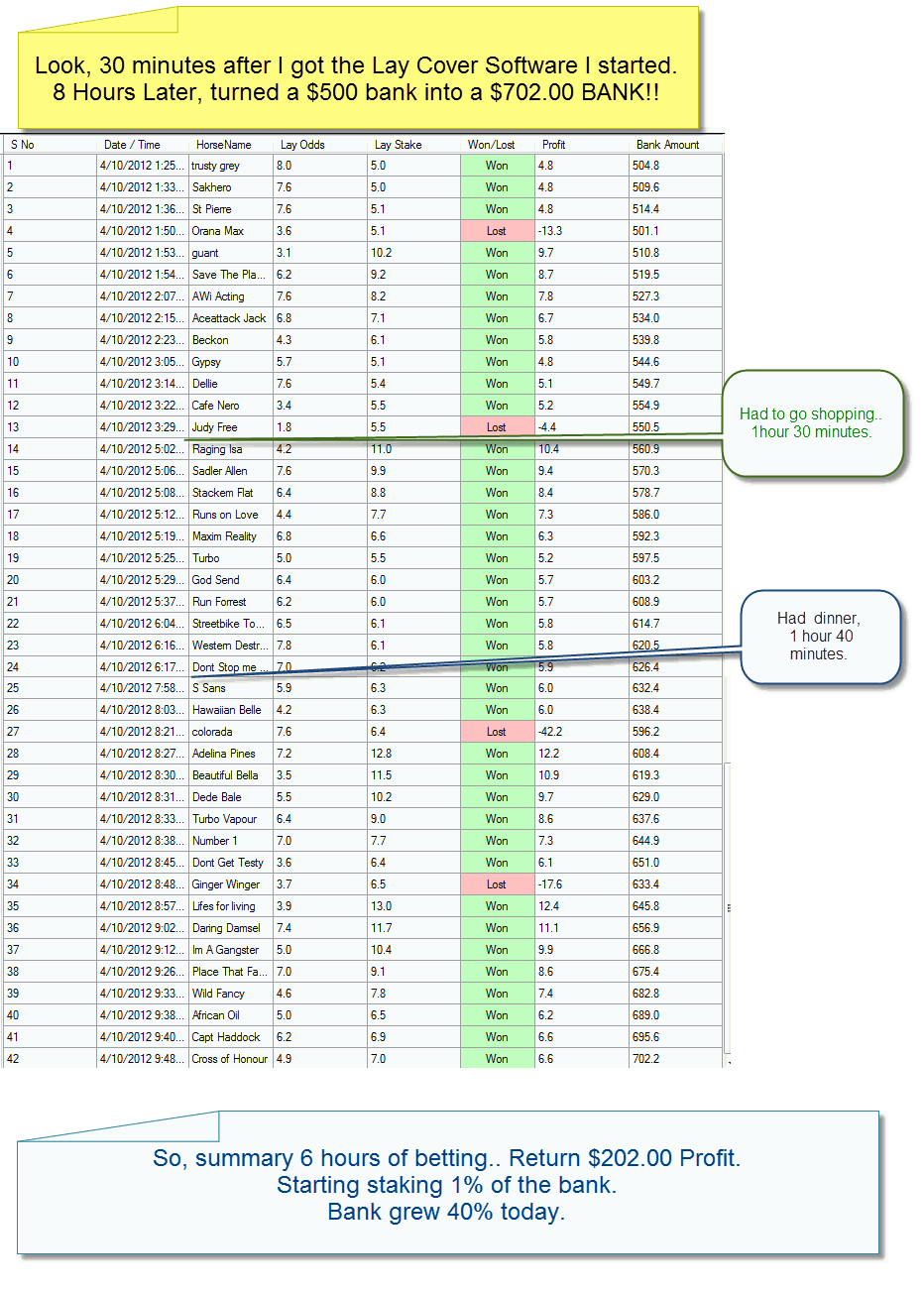 Here is the Betfair Statements.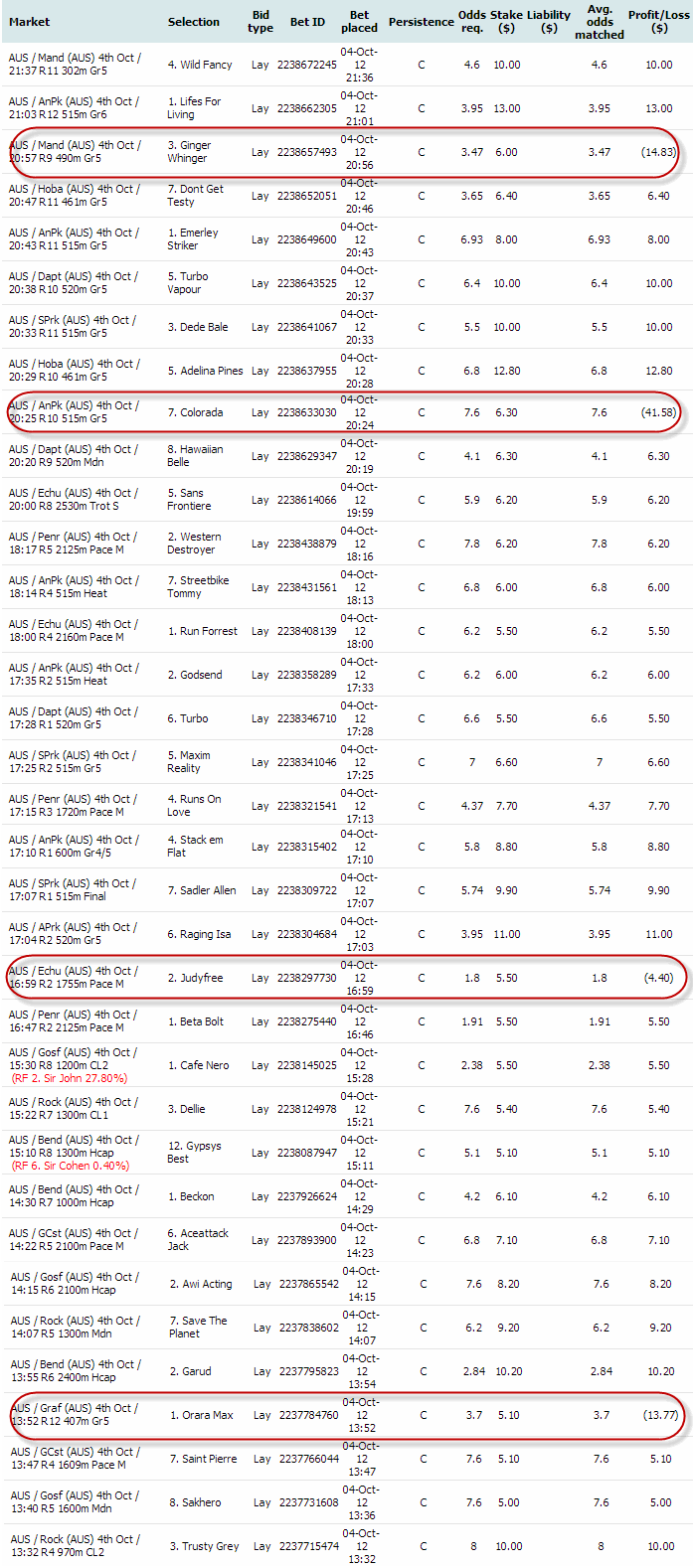 Same, Same, But Different.
If you ever visit Bali, you will often here this saying.. "Same, Same, but Different".
The spread sheet below, shows that even though the selections are the same, (hence same, same)
the results are vastly different, £556.00 more!
Where Can You Use the Staking Software?
Originally, the software was developed to use on Laying horses, and that is the arena that offers the most scope.

Whether you want to lay the 3rd favourite, between 5.50 and 8.00 in the win market, or maybe the 5th or 6th horse in the place market. Either of these options work well with "Lay Cover Staking".

However there are many options that lend themselves to this software.

Greyhounds (Dogs or Dishlickers), whether you are betting in the UK (6 dog fields) or Australia (8 dog fields), this software will work for you.

So this makes this software very useful. You can set a profile to keep your dogs betting separate from your horses, and sports if you like, or you can intergrate them.

If you are a mad keen football fan, then you can have your cake and eat it too!

This software allows you to bet from weekend to weekend if you like and to bet and store separate teams, or leagues if you chose.

NFL, Baseball, Basketball, match odds, lines, players, all can be made profitable with this software.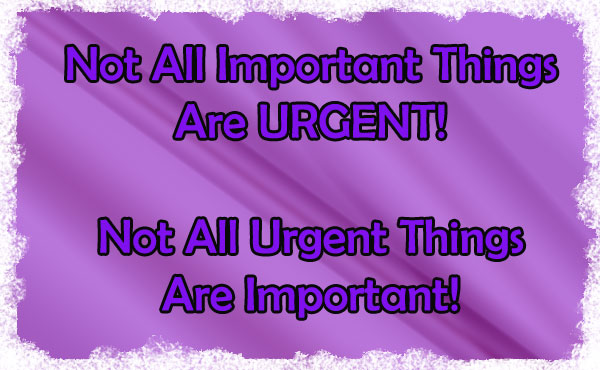 This staking software is IMPORTANT if you want to gain a Betting Advantage.
Also, the Price will not last long.. so that is the URGENT part.
Planning in your staking is very IMPORTANT.
First 100 copies
Only
£29.97
12 month access
licence is for 1 computer only.
Will not run on Apple products.
Grab the lowest price today!!

£29.97
If you want to pay on Moneybooker or Neteller
my account email is.
stevedav@iinet.net.au
Cheers

Steve Davidson

If you don't accept this offer where will you be with you punting in a month from here?

2012-16©

Steve Davidson © 2012-16

Refund Policy


We, as a merchant, provide both products (goods) and services (information) to our customers.

Unlike companies that provide a tangible product that can be returned for a refund, our product is information. It can be used immediately upon viewing, and there is no product to return. Once a service has commenced, there can be no refund. Our services are the absolute best we can make them. Just as with the Stock Market, our customers must recognize that the information cannot be guaranteed, and that past performance is not a promise of future results. What is guaranteed is that each and every customer will receive the service that was purchased in full.

If merchandise or products are ordered through a Direct Mail advertisement or via the Internet, the guarantee, if any, is included in the mailing, promotion or service description. Our advertising will also include the terms and conditions for refunds on any books, publications and/or systems purchased.